There are large communities of talented people being under-served by the jobs market due to high dependance for jobseeker and applicant experiences to start online.
Here are some shocking statistics that help illustrate how many people approach job searching with specific needs that must be met: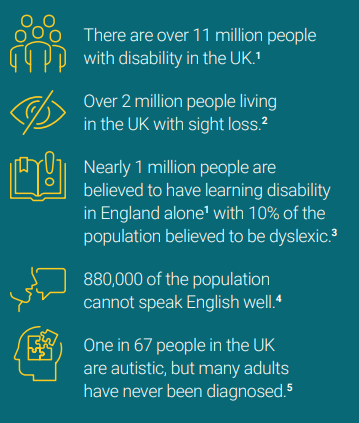 How can employers make the jobseeker experience more inclusive?
1. Install online accessibility software
Tate has installed Recite Me on its website to offer a customisable web experience for its jobseekers, which offers:
Screen reader and translation for those who can't read text easily or if English isn't their first language.

Styling and customisation to improve the visual experience particularly for those who are neurodiverse.

Reading aids support those with a learning difficulty or who find it difficult to use a mouse or a keyboard.
Recite Me's toolbar is already improving the lives of jobseekers on many recruitment and careers websites.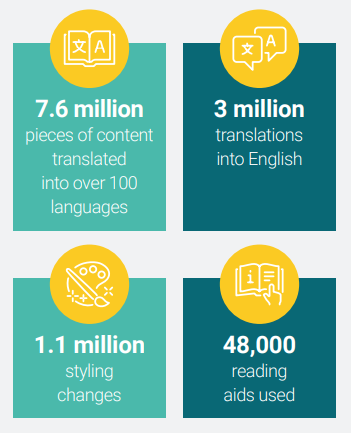 2. Become a disability confident employer.
The Government accreditation scheme supports business to recruit, train and develop disabled people within their organisations.
Being a Disabiity Confident Employer means you can draw from wider talent communities, secure and retain quality staff and lead the way in your sector through positive attitude, behaviour and change. Businesses in the scheme are included in a search engine filter on the Government's Find A Job website, giving them a direct line to potential future employees.
To find out more visit GOV.UK
3. Adhere to Web Content Accessability Guidelines (WCAG).
These internationally recognised recommendations help organisations develop their digital service, websites and apps making then accessible to everyone, inclusing users with impairments. Focusing on 4 key principles rather than technology, the guidelines emphasise the need to think about the different ways people interact with digital content to identify potential online improvements.
To find out more visit GOV.UK
What problems people can have when searching for jobs online?
Text appearing blurred or double.3
Difficulty keeping place in text or across lines of text.3
Discomfort with brightness of the page or contrast between text and background.3
Inability to read some or any text.3

Inabilty to read written English.

Mobility issues preventing use of a keyboard or mouse.
References
Disablity Sport

National Health Services

British Dyslexia Association

Office of National Statistics, 2021 census

Autistica